Kaitake is a parkland style country course which enjoys the mild micro-climate of the Oakura area. The course is located north of a range of hills which provide shelter from cold South-East winds when they blow. Our free draining soils means the course is rarely closed because of wet conditions.
We also get less rain than other courses in the area which are closer to Mt Taranaki and are less affected by the prevailing West and North-West winds than other courses closer to the coast.
We hope you enjoy your visit.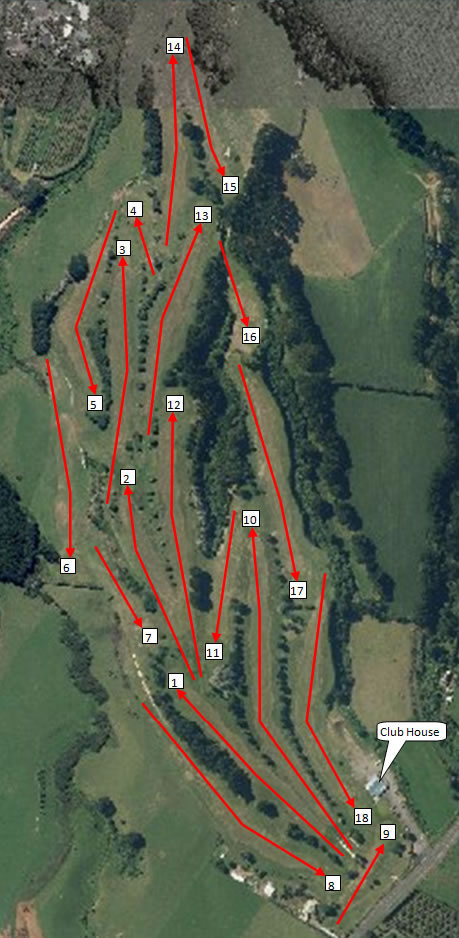 | | | | | | | |
| --- | --- | --- | --- | --- | --- | --- |
| Hole | Name | Men | Par | Ladies | Par | Description |
| 1 | Go Forth | 330 | 4 | 315 | 4 | A good starting hole with a hazard down the left but lots of space to the right (10thfairway). |
| 2 | The Narrows | 291 | 4 | 266 | 4 | Hazard to the left with lots of space to the right (12th fairway). |
| 3 | Tasman View | 350 | 4 | 331 | 4 | A straight forward par 4 with subtle undulations on the green. |
| 4 | Rahui | 109 | 3 | 100 | 3 | Short par 3 with sloping green and punishing slope at the back if you are too long. |
| 5 | Around the Bend | 280 | 4 | 280 | 4 | A strategic tee shot is required here to have a 2nd shot to the green. OB to the right. |
| 6 | Kapai | 294 | 4 | 278 | 4 | Big elevation changes make this an interesting hole. OB to the right. |
| 7 | Dulcarnon | 148 | 3 | 128 | 3 | Tough par 3. Plays longer than it measures due to elevation changes between tee and green and slopes above and below it. |
| 8 | Subway | 382 | 4 | 393 | 5 | Arguably one of the best Par 4's in Taranaki. OB to the right and hazard to the left if you aren't long off the tee. Two tier green makes an accurate approach shot important. |
| 9 | Sunrise | 140 | 3 | 140 | 3 | A deceptively simple Par 3 |
| | Front 9 Total | 2324 | 33 | 2231 | 34 | |
| 10 | Long Tonk | 482 | 5 | 470 | 5 | Our only Par 5 where the approach shot to the green needs to carry the depression. |
| 11 | Ranges | 201 | 3 | 196 | 4 | A tough Par 3 with cross slope on the fairway and rise to the green. |
| 12 | Pohutukawa | 368 | 4 | 355 | 4 | Hazard to the right and large pine trees requiring an accurate tee shot. |
| 13 | Neptune | 336 | 4 | 321 | 4 | A tee shot with a fade will set you up for your approach to the green. Hazard down the right. |
| 14 | Springfield | 306 | 4 | 295 | 4 | Not a long hole but accuracy required off the tee with grass depressions guarding each side of the normal landing zone for tee shots. |
| 15 | Bell's | 237 | 4 | 233 | 4 | Our shortest par with OB down the left and the landing zone for most tee shots guarded by our only bunker and 2 grass depression. |
| 16 | Plateau | 134 | 3 | 126 | 3 | Our signature hole. OB to the left and back of green. Steep slope down to a hazard on the right make hitting the green important for a good score. |
| 17 | Kaitake | 310 | 4 | 303 | 4 | Straight forward hole, with OB down the left. |
| 18 | Haere Ra | 358 | 4 | 364 | 5 | A tough closing hole. A sweeping turn to the left with OB down the left has ruined many a card. |
| | Back 9 Total | 2732 | 35 | 2663 | 37 | |
| | Course Total | 5056 | 68 | 4894 | 71 | |