These accommodation providers are located within a short drive of Kaitake Golf Club and provide a range of accommodation to suit all budgets.
When contacting them, please support our club by telling them you found their details on our web-site.
---

OAKURA BEACH HOLIDAY PARK

2 Jans Terrace, Oakura 4314, New Plymouth, New Zealand
We'll make sure that your stay is as relaxing and enjoyable as possible. Feel free to ask us for ideas if you are looking for a nice meal or an interesting place to visit. You'll find the office above the The Raw Tasman Café, our seasonal café and takeaway where you can have nice café-style food or for enjoying fish and chips on the beach
Phone: +64 (0)6 7527861
Website: www.oakurabeach.com
---

PATUHA LODGE

575 Upper Pitone Road, Okato R.D. 4, New Plymouth
New ZealandFrom boardroom to banquet the Lodge is ideal for retreats, weddings, conferences, corporate team building, boutique meetings, family functions or just unwind in the peaceful bush setting native to Taranaki.
Phone: +64 (0)6 7524469
Fax: +64 (0)6 752 4470
Email: info@patuhalodge.co.nz
Website: www.patuhalodge.co.nz
---

SARAH'S BOUTIQUE B&B/STUDIO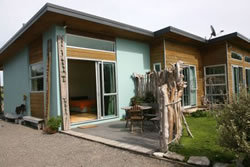 239 Ahu Ahu Rd, Oakura, New Plymouth
Phone: 027 656 9340
Email: sarahsatahus@gmail.com
Come and stay at a luxurious, modern, self-contained unit in a rural setting.
Inside the emphasis is on art and the word! Original paintings and prints, fine art books, fiction and mags are yours to enjoy.
Step outside onto a sunny patio with your own barbeque.
Stroll 5 minutes down the country road to surf and safe swimming, or walk 20 minutes along the beach to our local village Oakura, with its pub, cafes and all the amenities you might need.
Rate: $125 per night 2 people or negotiable for longer stay
---

SCENIC LODGE

199 Centennial Drive, New Plymouth
Phone: +64 (0)6 751 2829
Email: sceniclodge@xtra.co.nz
Website: www.sceniclodge.co.nz
---

MOTOR HOME SITES AT KAITAKE GOLF CLUB
There is space to park a number of motor homes behind the club house, with 3 power outlets available to hook into.
Change Room showers and toilets can be made available by agreement with the club.
Affiliated Golfers – 1 round $20.00 (No camp fees)
Non-affiliated – 1 round $20.00 (No camp fees)
Camper but no golf $10.00 (Must be a member of NZMCA)
Non member of NZMCA $20.00